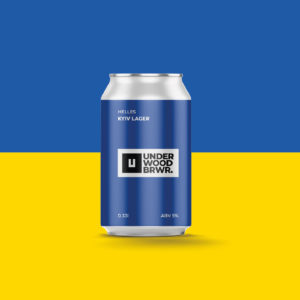 The war in Ukraine affects us all and hits our consciences hard, so we want to do our bit in solidarity with the Ukrainian people. In collaboration with Ukrainian beer Underwood, Cervebel and Crusat are launching a fundraising project to donate funds to organisations and institutions that are recognised by the Spanish government.
This campaign will remain active for the duration of the conflict and may be extended for a longer period to help rebuild the country. Each beer you drink generates a donation to Ukraine. Funds will be raised solely from the distribution and sale of Underwood-produced beers. Each beer that reaches the end consumer will have left a donation of €1.1 along the way, from the time Cervebel/Crusat sells it as an importer to the distributor until the bar or brewery serves it to the end customer.
Each of the actors in the distribution chain will contribute different amounts, distributed as follows:
Cervebel/Crusat will contribute €6 per case sold to the distributor.
The distributor will contribute €6 per case sold to their customers.
The caterer will contribute €14.4 per case purchased from the distributor.
All contributions will amount to €26.40 per case of 24 pcs. In order to ensure that the contributions are the same for everyone, we suggest the same sales prices to consumers in all venues.  The amount contributed by each agent will be recorded as a donation on the invoice in addition to the beer cost.  The payment of this donation by the caterers will always be made in advance at the time of payment of the corresponding invoice issued by the distributor. Each distributor will pay the collected funds into one of the mentioned destination accounts.
How do I pay the contributions? In the case of distributors: They make the direct payment (into the authorised account of their choice) of the donations collected from their customers, together with their own donations per case. They must provide proof of the payment made, with the sum of their contribution per box being €6 plus their customer's contribution of €14.40 per case, hence amounting to €20.40. In the case of importers: Cervebel/Crusat will pay into the destination accounts the amount corresponding to both your direct contribution per imported case. €6.0