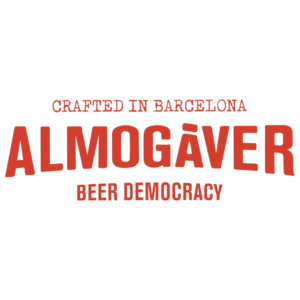 The idea arose back in 2001, with a visit to a microbrewery in the United States. From then on, the idea took hold in the minds of its creators. To create a brand of beer from Barcelona and in Barcelona.
From 2005 to 2009, the name Almogàver and the project were laid on the table. At that time, Almogàver was born as a nomadic brewer until 2015.
In 2015, one of the most important goals was achieved, as Almogàver finally got funding to build the brewery they had always dreamed of. In 2016 and at a frenetic pace, the factory, which features almost 2,000 m2, was completed. On 22 November 2016, the factory started up, with all its equipment ready to go: the brewhouse, fermenting, kegging, bottling … and so on.
In 2016, in the Italian city of Rimini, Victor met Francesco____, who joined the Almogàver project as a master brewer.
In 2017, Almogàver beer was already created and bottled in its own brewery. In 2022, after much effort, Almogàver has created its Taproom, which is known for its delicious burgers and draft beer, which is freshly brewed just a few metres away from the brewery.
Since its inception, Almogàver has aimed to give craft beer the prominence it deserves. Making beer that is worth choosing.
Origin
Catalonia
Brand
Almogàver
Style
Blonde
Alcohol Content
5,3%
Catalonian IPA for the vicious, enveloping and intense. With aromas of white fruit and blueberries, tangerine, papaya and pineapple. Creamy white foam with a pale golden appearance. Fruity on the palate with a herbal aftertaste, bitter and dry finish.