1906 – Reserva Especial o "La milnueve"
Origin
Spain
Brand
Estrella Galícia
Style
Lager
Alcohol Content
5,5%
Colour
Blonde
6.5% beer, bitterness of 25 IBUs and Helles Bock style.
The 1906 is a beer with roasted malts, aromatic hops with a long-lasting flavour and a special and unique character. This beer is brewed using water from A Coruña, a selection of Pilsen and roasted malts and Hallertau Perle hops. Bright amber colour. Roasted coffee and caramel aromas, light floral and herbal nuances in the nose. This premium lager has a unique touch with toasty notes.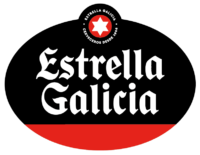 Estrella Galicia
Estrella Galicia es un referente de la cerveza en España.
Nacida en 1906 en A coruña de la mano de Jose Maria Riveraj y que la familia Rivera continua hasta el presente.
En 1910 realiza su actividad cervecera en la Fábrica de cerveza y hielo de Cuatro caminos en A coruña.