It is very important for companies to be aware of their social responsibility.
With this awareness in mind, Crusat S. A., with the support of Cabreiroá water, has started a new social project, which involves the collection of plastic caps to donate them to the Catalan Foundation for Cerebral Palsy.
 The FCPC helps and supports people with cerebral palsy so that they can feel and become as independent as possible, as well as ensuring the dignity and visibility of this group.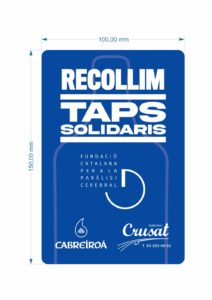 The money generated by our project will be used to pay for the fuel of the vehicles used to transport the users of the FCPC and thus provide them with greater autonomy.
We encourage our customers to become aware of and make visible the work that this foundation carries out through its Circular Economy project.
All customers who want to participate will receive a sticker to inform their customers and an 80% recycled plastic box to participate in the project. Once it is filled with plastic caps (about 500 g), we will take care of the removal of the caps and return the empty box to continue contributing to this project. 
Our sales team will contact you soon to explain the project and give you the box to fill it with plastic caps.
We want to fill many boxes with caps, we will manage to do so with your help!